General Guides
How to Start An Essay? Essential Guide To Start Essay
2023-07-21 16:13:33
12 minutes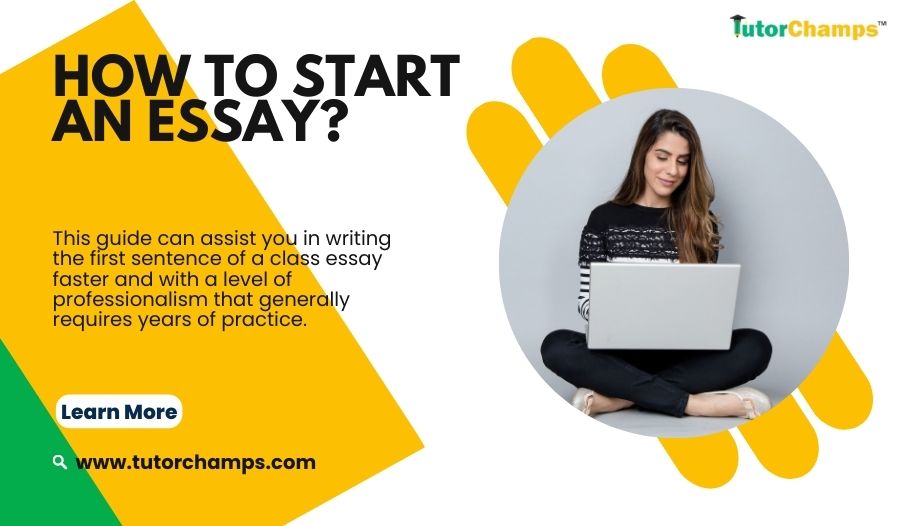 Have you been given an essay writing assignment at school? Do you find yourself gazing at a blank screen, unsure where to begin?
Essay writing can be difficult, and knowing how to start an essay successfully is crucial. Why?
"The first impression is the final impression," as you've probably heard.
Similarly, the first impression you make on the reader with any piece of writing sets the tone for the rest of the content. This allows them to decide whether or not they want to continue reading it. As a result, the opening is a very important section of any paper or essay. Some people prefer to ask questions, while others enjoy telling fascinating stories. Whatever you use ways to start an essay, keep in mind that it must remain relevant to the issue at hand.
So if you're stuck at this point and don't know where to start, you've come to the perfect place.
This guide can assist you in writing the first sentence of a class essay faster and with a level of professionalism that generally requires years of practice.
Bookmark this post so you may come back to it whenever you need to know how to start off an essay to acquire ideas for your introduction!
Best Way to Start an Essay Introduction-
The first few paragraphs of any piece of writing are the most crucial. They help in capturing the reader's attention and deciding whether or not to devote their time. Similarly, in an essay, the opening serves as a road map and establishes the tone for the remainder of the text.
As we previously stated, there is no one-size-fits-all approach to writing an essay. But one thing to keep in mind is that your introduction should be both interesting and instructive.
You must employ a hook sentence to make your work intriguing and to catch the reader's attention with the first line.
1. Hook and Hold the Attention of the Readers
For starting an essay, an essay hook is the first line that grabs the reader's interest and motivates them to continue reading.
A hook sentence, on the other hand, does not serve as a replacement for the introduction. Instead, it provides an intriguing start to your article. You can use several different types of hooks. You might start your essay with a quote or some rhetorical questions, for example.
You can utilize any of the following hooks, depending on the nature and topic of your essay:
Anecdote
Questions
Quote
Personal Story
Statistics
Common Misconceptions
For example, if you're writing an argumentative essay about the advantages of foreign disinvestment, you may begin by asking, "Is it correct to assert that foreign disinvestment is beneficial to a country's growth?" And then answer it in your essay.
2. Give Some Background Context
After you've grabbed the reader's interest, it's time to introduce the topic. To make it easy for them to understand what is being discussed in the essay, tell them of the key point and provide background information.
Make certain not to confuse the reader with additional information at this point. You don't want them to become overwhelmed by too much information and give up reading. Your background information may include the following, depending on your essay topic:
An outline addressing the topic you're debating
Definitions of important terms
A synopsis of your study subject or hypothesis
Any historical, social, or geographic setting is acceptable.
Simply provide enough information to acquaint them with the overall concept in order to make it easier to understand. Only use reputable and authentic sources when looking for information about your topic.
Before you begin writing, you must conduct extensive research. This is an unavoidable step of the essay writing process.
3. Include a Thesis Statement
A thesis statement is the final component of an essay introduction. The thesis statement summarises the entire thought and expresses the essay's principal goal.
The thesis statement's function is to establish a claim about the issue and to captivate the reader, making them want to read all the way through.
A thesis statement should be debatable rather than relying on facts that the reader already accepts. Your teacher is looking for something intriguing and engaging to read, and the only way to do so is to present them with new and debatable material.
A good thesis statement is one that is debatable, defendable, and enlightening. After you've completed your essay introduction, you'll move on to the body portion.
4. Define the Structure of your Essay
Ending the introduction with a summary of what will be addressed in each section might help your reader understand where they are going. It's best to keep it short and sweet, with no superfluous details that detract from the main point.
5. Proofread and Revise your Essay
Waiting till the end of the writing process to compose your introduction paragraph is a fantastic idea.
As you study, you'll learn more, which may alter how you want to create an argument for your essay. So it's best not to start with the first thing that comes to mind because it may turn out to be incorrect later.
Return to your introduction after finishing the essay body and conclusion. Examine the order in which your data is presented. Check to see if the thesis statement in the introduction corresponds to the reasons in the body and conclusion paragraphs.
After that, check over your work again to look for grammatical errors and sentence structure. These may appear to be little errors, but they can have a significant impact on the final grade of an essay.
Various Ways to Start an Essay-
You now have a better understanding of the factors deciding when and how to start an essay. The following are some of the numerous ways you might begin your academic essay.
How to Start an Essay-
With a Question:
One of the simplest and most effective strategies to catch the interest of your readers is to start an essay with an intriguing question. As a result, the reader will reflect on the essay topic and be curious to see how the author responded to the query. However, think about the type and character of the question you wish to ask in your essay. Here are a few examples of question types:
Specific question: To capture the attention of the reader, ask them something specific relating to the issue. This inquiry should either be followed by your response or use human curiosity to persuade the reader to try to give their own answer and continue reading.
Rhetorical question: pose a philosophical inquiry that does not require a solution but encourages the reader to consider their own viewpoint. However, other academics argue that rhetorical questions should not be used in academic essays because an essay should not provide responses in the form of further questions. As a result, it's best suited to more casual or creative writing, such as persuasive or argumentative papers.
Riddle or joke: Start with a funny joke or a riddle with an unexpected answer. This isn't the most straightforward method to begin an essay, but if done effectively, it can have a significant impact. When creating less formal forms of essays, it's best to experiment with this one.
For example: "Do you shop at quick fashion stores on a regular basis? These merchandisers include H&M, Zara, Urbanic, and other brands that specialize in low-cost clothes for short-term use."
With a Quote:
If you wish to start an essay with a quotation, you should avoid using a famous statement or one of those inspirational quotes because they may not perform well in academic writing and are often overused. Choose someone who is closely relevant to the topic of your essay, such as an author or researcher whose work you cited in your thesis.
For example: "The best definition of man is: a being that goes on two legs and is ungrateful" (Fyodor Dostoyevsky, Notes from Underground, 1864). Human nature appears to be a constant. What if Dostoevsky had the opportunity to see the abundance in our cultures compared to the one he lived in, and how, despite the abundance, there was so much sorrow and so many ungrateful people?"
With an Anecdote:
Anecdotes are short stories that describe a real-life occurrence, such as a single incident or a series of events. It should support the major point you're making throughout your essay. It doesn't have to be a lesson in and of itself; instead, it should act as an illustration of your major argument.
Anecdotes are a great method to start an essay because they usually have a "wow" effect and keep the reader interested. It's great for using in narrative writing and college admission essays.
For example: "Sitting against the backdrop of stars, I noticed the boats gracefully floating on the sea, transporting me back through the tides of time to my adolescence. These boats reminded me of my drifting adventures with my grandfather and a neighboring neighbor. My grandfather routinely discussed clients and deals from his firm during our fishing outings, acquainting me with the world of financial affairs and money."
With an Interesting or Fun Fact:
Another approach to start an essay is to use a shocking figure or fact that relates to your main theme. Choose something that is either unfamiliar or surprising or both. Everyone enjoys reading interesting and entertaining facts since they provide useful background knowledge on the subject. If you're writing a serious essay, you can start with some stunning data to get your reader's attention right away.
For example: "The peregrine hawk was saved from extinction thanks to a DDT ban, as well as a peregrine bird of prey mating cap designed by a Cornell University ornithologist. If you can't buy it, look it up on the internet. Female raptors had become dangerously scarce. In any event, a few contemplative guys maintained a kind of sexual standing around the ground."
Starting an Essay: Some Tips & Suggestions-
Writing the first hook line at the end is something that is often told by teachers to students while giving away tips for writing an essay. It's also logical. It is something that merely serves to help you draw the reader's attention to your essay and effectively introduce your key idea. It should be straightforward to choose a hook for your piece once you've finished it.
Here are a few DON'Ts to keep in mind:
Using Dictionary style: Avoid dull definitions by using dictionary style. For example, in your introduction, leave out the "environment" explanation from a biology textbook.
Being repetitive: Don't make the introduction sound like a broken record by repeating it over and over. It's preferable to keep it brief but unambiguous.
Dry facts: Absolutely, your essay must have a strong thesis point. It shouldn't, however, be something like, "Protecting nature is really necessary."
Not detailed enough: Your introduction should not be too general. Your introduction should get right to the point and be related to your major topic.
The Final Takeaway-
If you want to produce an engaging essay, take the time to plan an intriguing start. Our professional specialists have offered the best tips to start an essay. Confidence is essential; let the audience know right away how amazing your paper is.
If you're still having trouble with how to start an essay, expert online homework help services like TutorChamps can assist you. We are regularly changing our paper writing service in light of this critical analysis so that consumers are delighted with our writing essays. The following are some of the important sorts of writing that we offer as part of our paper writing service:
Research Essay
Research Proposals
Essays
Dissertations
Business Reports
Powerpoint Presentation,
In addition, we can help you with college papers such as descriptive, narrative, business analysis, market analysis, reflective, statistical, and entrance essays. Each order we work on is unique in terms of form and requirements. If you have any further questions about our writing papers service, you can contact our customer service representatives using our website's online chat.
Our firm, TutorChamps, gives the best essay writing service since it delivers authentic writing papers service in the shortest time feasible. Our organization checks all the boxes for being a dependable and effective writing essay service for students.
Simply contact our experienced writers for assistance with a rough draft or an essay created from fresh, and they will take care of the rest.
Homework Help 24/7
Get instant support in your homework problems from dedicated subject expert tutors.
Get Started »